VEGAS Pro 15 Suite
download for free now - to edit and convert your videos
Upgrade: VEGAS Pro 15 Suite
download for free now - to edit and convert your videos
VEGAS Pro 15 Suite
download for free now - to edit and convert your videos
From

A$483.00
Regularly A$1,627.99
This premier edition of VEGAS Pro Suite features the core application and a host of additional tools from VEGAS Creative Software and its key partners. It has never been easier to deliver the works and make it easier than ever to bring your creative visions to life. The free test version let you do this also risk-free. VEGAS Pro Suite offers advanced video and audio editing tools. Download now and try countless special effects, sophisticated workflows and uncompromising disc authoring – free and for 30 days.
Perfect your project with helpful video editor tools and high end plug-ins for the demands of a professional video cutter. Comprehensive disc authoring and a free video converter complete the range of the VEGAS Pro Suite.
Download now and try!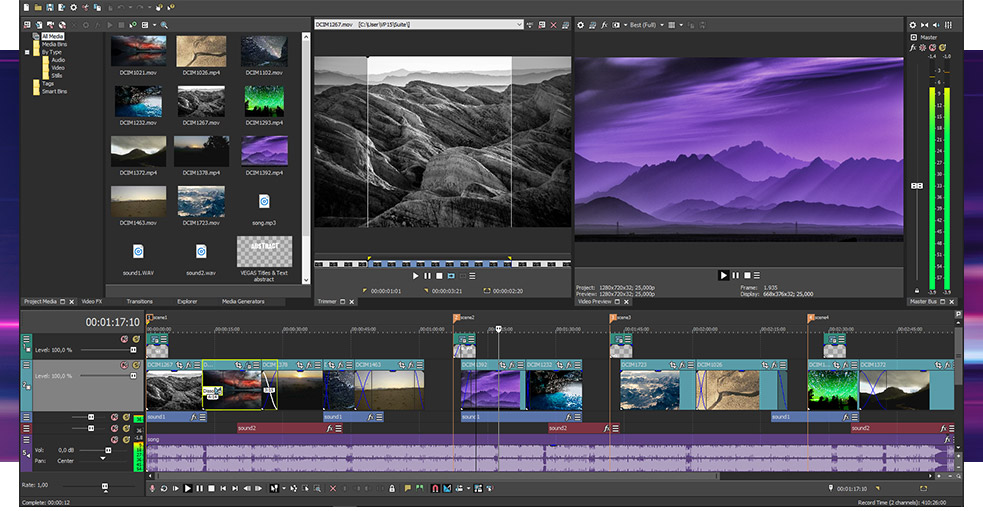 The VEGAS Pro Suite test version also supports all standard formats. This includes native ProRes support for import and export, HEVC support and option to edit HFR material.
Plug-ins from market leaders fulfil the highest demands. Perfect your project with plug-ins for image stabilization, Chroma Keying, 3D object design and powerful tools and creation of titles and banners.
VEGAS Pro 15 Suite
Professional video & audio editing, disc authoring & high-end plug-ins
Upgrade: VEGAS Pro 15 Suite
Professional video & audio editing, disc authoring & high-end plug-ins
VEGAS Pro 15 Suite
Professional video & audio editing, disc authoring & high-end plug-ins
From

A$483.00
Regularly A$1,627.99