With the VEGAS Pro free version, you get a modern software for non-linear editing (NLE). Chock full of countless creative control options and new features, such as expanded editing mode and exciting effects, as well as powerful audio editing tools.
Download for free and experience a new era of video editing.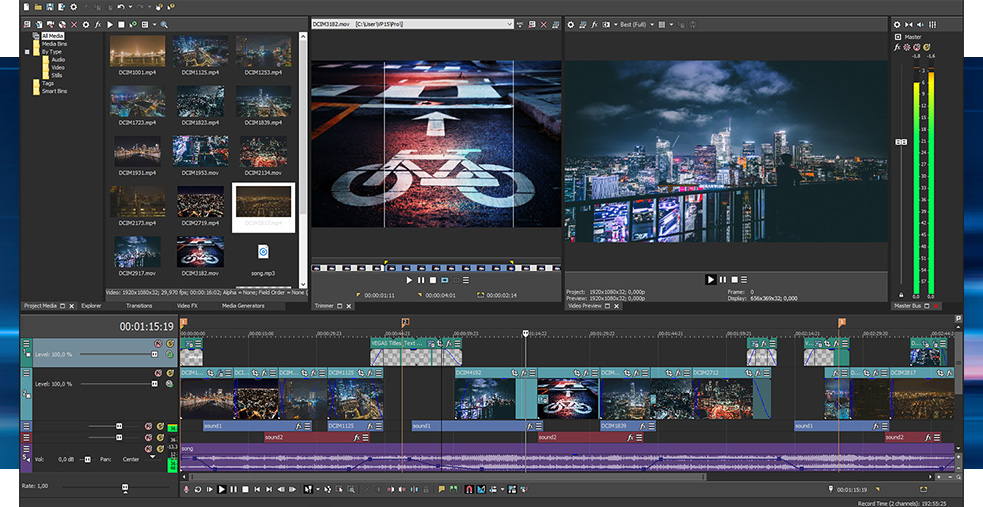 With the VEGAS trial version, you can can enjoy not only an advanced video editing program. The unprecedented audio editing ensures that your projects also sound just the way you want them to. Use unlimited audio tracks, high-resolution 24-bit/192 kHz audio recording and playback, punch-in recording, 5.1 surround mixing, effects automation, and time compression/expansion. In addition, you can shape your audio with countless effects in real-time, like EQ, reverb, delay, and more.
In addition to free video editing you will also get a selection of helpful tools with VEGAS Pro. This includes the ability to view the first raw edit in the preview window thanks to new hover scrub technology. With smart tools such as intelligent upscaling and adaptive deinterlacing, the free test version from VEGAS Pro takes work off your hands.
Optimize your video editing workflows with GPU acceleration. You can use it to accelerate video effects, transitions and even encoding. Download now and experience optimizard video editing for free.
Edit your videos in more than 2D. VEGAS Pro enables you to import, adjust, edit, preview, and output stereoscopic 3D media.