VEGAS Movie Studio 15 Platinum
For powerful video editing
Upgrade: VEGAS Movie Studio 15 Platinum
For powerful video editing
VEGAS Movie Studio 15 Platinum
For powerful video editing
C$74.99
Regularly C$99.99
Valid until May 30, 2018
From

C$49.99
Regularly C$99.99
Valid until May 29, 2018
Do you love making videos? Do you have countless hours of footage that you'd like to turn into exciting videos for friends and family to enjoy? With easy-to-use video editing software, a few basic skills and the desire to experiment and create, you'll be making great videos in no time. In this article, you'll learn the fundamental facts of movie editing.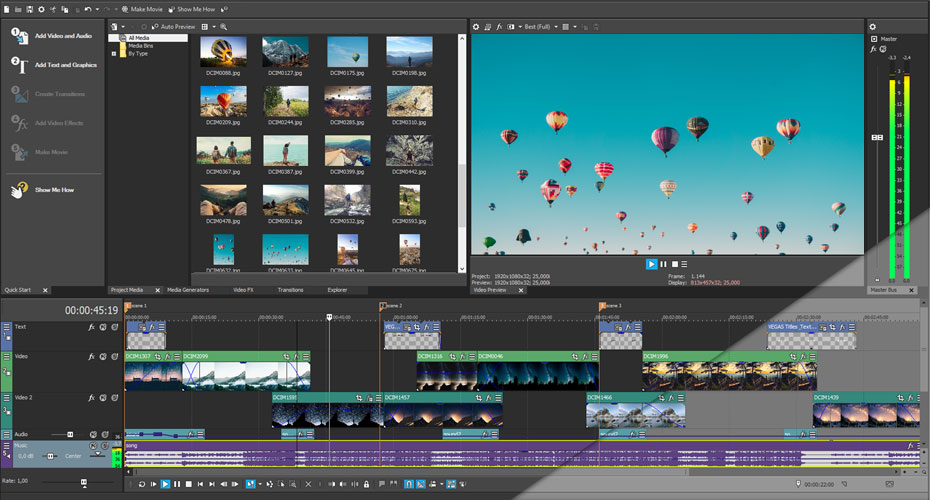 Making a great video doesn't have to be complicated. There are five fundamental steps you can follow to get started: previewing your media, planning your project, cutting the raw footage into a rough cut, refining your edits and exporting the finished movie. If you follow these steps, you'll be able to keep focused and maintain logical structure in all your projects.
1. Previewing
In this step, watch all of the material you've shot and make preliminary selections of clips that you would like to use in your video. Rule out unusable material at this stage to save time importing it into your simple video editing software. Tip! Be careful deleting apparently unusable material – good video editing programs can rescue a lot of what at first appears hopeless. VEGAS Movie Studio Platinum, for example, has internal image stabilization, which corrects shaky recordings quickly and easily and powerful color-correction features that can rescue improperly shot video.
2. Planning
After familiarizing yourself with your material, you can start making a plan for your movie: How would you like to structure it? Which video clips do you want to show and when? Try to imagine how your movie will look when it's done and make notes for yourself. When you have a solid idea, you might want to make a storyboard to get a sense of how it will look. This way you can capture each idea and thought and make sure you don't forget anything in the editing process. In some cases, you might even want to perform this step first so you know exactly what footage to shoot.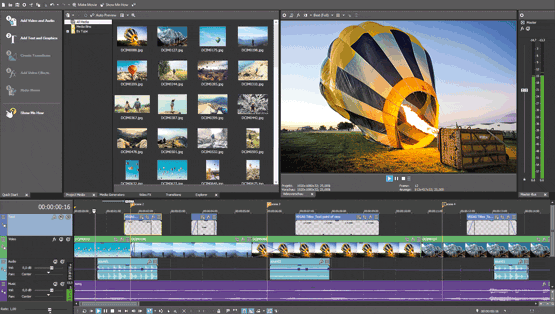 3. Cutting
The first cutting step is the rough ordering of your video clips in the right sequence. This is known as a rough cut. The rough cut might include some additional material like still images and music. The idea here is to get a feel for how the individual scenes fit with one another. Is something not working as well as you imagined? This is the time to change the concept. Tip! Don't be stingy with the material in the rough cut—maybe add in more footage than you think you need. This gives you more breathing room when fine tuning.
When you have the basic structure of the movie and you're satisfied with the sequence of the cuts, you can start with the details. This includes ensuring that each clip is trimmed down to exactly the portion you want to use and that the transitions between clips are fitting and unobtrusive. We recommend using hard cuts for a professional look. Adding a series of different transition effects one after the next will distract your viewers and won't look very professional.
4. Editing
The editing phase revolves around adding effects, titles and possibly image stabilization for design and final details. The most used video effects include slow motion, time lapse, movement and color effects. These help set highlights and masterfully emphasize the best scenes. One example is slowing down action to accent spectacular scenes.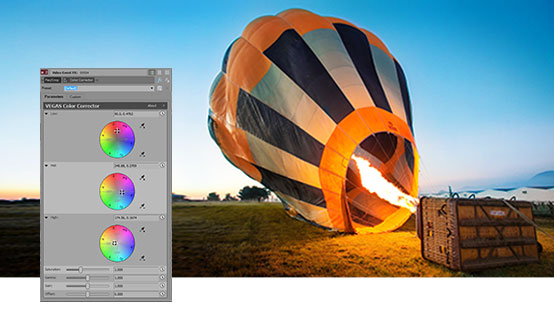 5. Export
In the last step to a finished movie you'll select the right output format. Widescreen (16:9) is most common. After making the export setting decisions, you still need to render and actually export. Depending on the length of your video and power of your computer, this can take quite some time. When you're done rendering, you can finally present your film to the world!
In the end, video editing remains an individual and very personal process, where you must find the best process for accomplishing your goals. However, these five steps provide a framework to make non-linear movie editing even easier.
VEGAS Movie Studio 15
VEGAS Movie Studio 15 Platinum
Upgrade: VEGAS Movie Studio 15 Platinum
C$74.99
Regularly C$99.99
Valid until May 30, 2018
From

C$49.99
Regularly C$99.99
Valid until May 29, 2018
VEGAS Movie Studio 15 Suite
Upgrade: VEGAS Movie Studio 15 Suite
From

C$99.99
Regularly C$169.99
Valid until May 29, 2018