VEGAS Pro 15
Professional video & audio production and disc authoring
Upgrade: VEGAS Pro 15
Professional video & audio production and disc authoring
VEGAS Pro 15
Professional video & audio production and disc authoring
From

C$263.00
Regularly C$799.00
Valid until May 29, 2018
Video editing is getting more and more popular with time thanks to technical innovations on the camcorder and action cam market. Sharing your own videos on social networks is growing in popularity, and thanks to the right movie editing software for PCs, is easier than ever.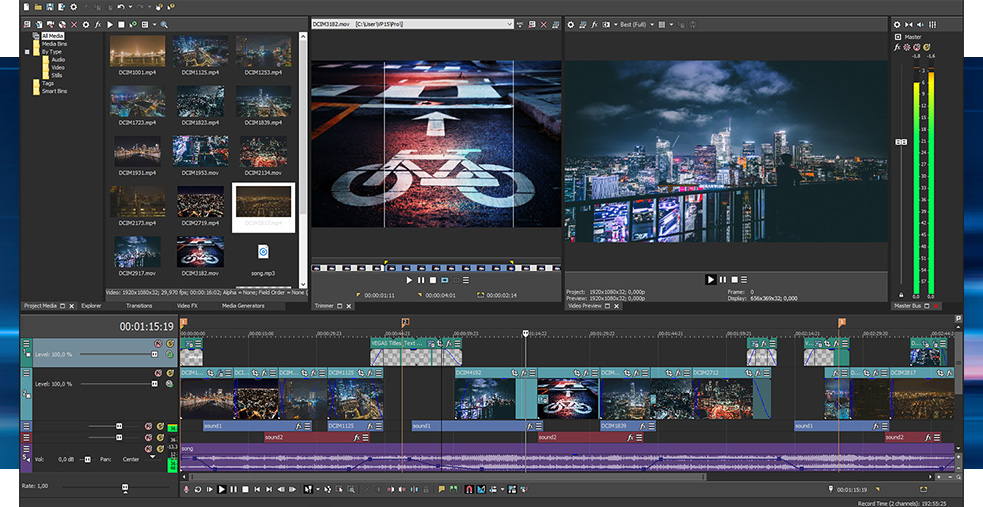 Video editing strains the PC's resources. As a rule, the higher the resolution of raw material, the more computational power is needed for editing. Once you have the right hardware, you still have to find the right video editing software for PC. After all, other factors such as previous video editing experience, especially the need for additional plug-ins for transitions, titles and audio editing functions play an important role selecting the right video editing program.
Many popular consumer video editing programs offer intuitive, user-friendly interfaces that are easy to master. But only a few software solutions in the professional sector place ease of use as one of their selling points. This is a VEGAS Pro specialty. In spite of its considerable range of features with countless professional functions and detailed settings options, it is the software's steep learning curve that makes it most attractive.
For shortening and optically improving large volumes of video material, themed templates are sometimes a big help. Powerful color processing, simple subtitle creation and outstanding video effects make VEGAS Pro one of the best video production solutions on the market. In addition, the audio dubbing features find no equal among it peers. The answer to the question of which video editing software is the best is clear: the easiest to use is also the top, especially in the pro sector.

You finished filming, and now you'd like to bring your vision of the movie to the timeline. This is no problem with the right video editing software. VEGAS Pro works using a simple drag-and-drop workflow and offers far-reaching options to use the recorded material in a creative way. Using video and audio editing effects and tools is quick and easy to learn. This lets you implement your ideas not only imaginatively, but also efficiently. This is an absolute must for indie projects and professional wedding videos alike. VEGAS Pro is the right video editing software for your PC if you want professional results fast.
It's not always easy to find the right video editing software to make a movie. Even the best-looking buttons and keys bring nothing if the software isn't intuitive to use. But a professional solution makes a big difference in terms of quality and speed. We recommend to use an easy to use software even to beginners, where you will find lots of space to develop your own style. As a rule, practice makes perfect. And the right video editing software will help you from the start to reach perfection. This is what makes VEGAS Pro a definite recommendation.
VEGAS Pro 15 Edit
Upgrade: VEGAS Pro 15 Edit
C$379.00
Regularly C$898.00
Valid until May 30, 2018
C$220 discount
Included as part of this offer:
Boris Continuum Image Restoration (C$299 value)
From

C$219.00
Regularly C$599.00
Valid until May 29, 2018
VEGAS Pro 15
Upgrade: VEGAS Pro 15
From

C$263.00
Regularly C$799.00
Valid until May 29, 2018
VEGAS Pro 15 Suite
Upgrade: VEGAS Pro 15 Suite
From

C$369.00
Regularly C$999.00
Valid until May 29, 2018