VEGAS Pro 15
Professional video & audio production and disc authoring
Upgrade: VEGAS Pro 15
Professional video & audio production and disc authoring
VEGAS Pro 15
Professional video & audio production and disc authoring
From

C$263.00
Regularly C$799.00
Valid until May 29, 2018
Your individual needs play an important role when you're purchasing video editing software – in comparison with home users, professional movie editors have additional demands for their video editor software. If you're looking for the right video editor software for your needs, keep reading! This article describes what you should look for when buying your next program and what requirements the software should meet.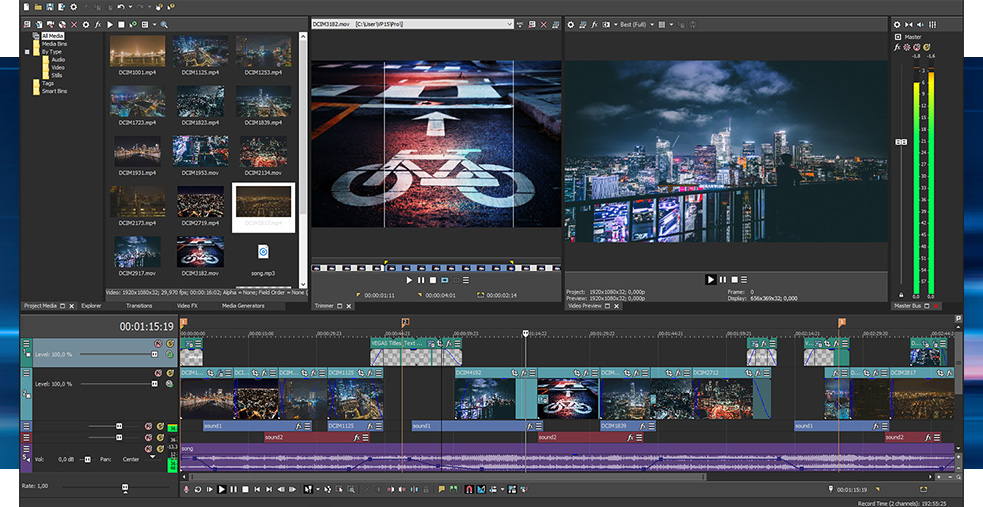 When you need to have your video software running at professional level for cutting videos, you need a PC that can run at optimal speed too. If you normally edit video material in HD resolution, a dual core processor will work fine. However, a multi-core processor is not sufficient if you want to edit 4K material within the program. For a smooth editing process for 4K videos, we recommend a processor with at least 8-core CPU. In all cases, it's best to find out about your system requirements and then select the appropriate hardware.
Factors such as your level of video editing experience play a fundamental role when choosing the right video editor software for your PC. If you have more than a basic knowledge, you will probably need higher-level video effects, transitions and titles. When it comes to features such as these, there can be a lot of difference between video editors. Professional non-linear video editing programs like VEGAS Pro include advanced features and options for customization, offering you more freedom to create truly unique films.

Professional video editors often have requirements from their video software that differ from those of users who only edit now and again. If you're someone who only tackles video editing on an occasional basis, you'll want to save time on becoming familiar with the program so you can start creating videos on your PC straight away. Programs such as VEGAS Pro and VEGAS Movie Studio operate via the drag & drop principle, so they are ideal for video editor software users of any experience level.
For people who make a living from editing videos - e.g. video editors, YouTubers or freelancers - the right software is crucial. For instance, the program's user interface plays an important role and should meet the user's needs. The interface in professional video editor software usually follows the "form follows function" principle.
If you spend a lot of time in front of a screen editing videos, you need to be able to depend on what you see. Ideally, the interface should be neutrally colored in order for you to evaluate whether the colors on display in your video material come through effectively and are not distorted. This is especially important for the color correction stage in video production.
The software should be clearly laid out, but still offer the full spectrum of professional customization options.

Professional video editing is a resource-hungry activity and uses up a lot of computer power. In particular, editing high-resolution video formats like XAVC S in 4K natively can be difficult when using "normal" computer tools. Instead, it's best to work with a smart proxy. In VEGAS Pro, you can create automatic proxy files for high-resolution formats. This offers a unique advantage in terms of editing, as it means you only work with the "smaller" videos from imported files and can cut videos and apply effects much faster. Then, when you render a video, the program re-uses the original files in full resolution. When it comes to video editing and post-production, working with proxys is pretty much essential.
One of the most widely used formats in video is MP4 due to its combination of high playback quality and efficient compression, which ensures that file size remains comparatively small. In addition, the MP4 format is widely supported by modern platforms, meaning videos can easily be displayed on a range of devices from smartphones and laptops to smart TVs and desktop PCs without having to create new file versions. One reason why the MP4 file format is so universal is no doubt due to its popularity with distributors and video platforms such as Vimeo and the Apple iTunes Store.
There are a whole variety of MP4 video editors on the market for editing MP4 files. However, basically any standard video editing software can load, edit and export this file format. For anyone starting out in video editing, VEGAS Movie Studio is an ideal option, while if you're looking for a professional MP4 video editor, we recommend VEGAS Pro. It's software that offers not just intuitive operation but a highly stable, performance-oriented video engine – and of course, native video editing is possible for all important video file formats from AVI, MOV, WMV and H.265/HEVC to MPG-1/2/4 and MXF.
VEGAS Pro 15 Edit
Upgrade: VEGAS Pro 15 Edit
C$379.00
Regularly C$898.00
Valid until May 30, 2018
C$220 discount
Included as part of this offer:
Boris Continuum Image Restoration (C$299 value)
From

C$219.00
Regularly C$599.00
Valid until May 29, 2018
VEGAS Pro 15
Upgrade: VEGAS Pro 15
From

C$263.00
Regularly C$799.00
Valid until May 29, 2018
VEGAS Pro 15 Suite
Upgrade: VEGAS Pro 15 Suite
From

C$369.00
Regularly C$999.00
Valid until May 29, 2018