Advanced crossfade editing
Starting with multiple sessions, made up from any source material, Sequoia lets you compose your final cut easily and efficiently with Source Destination Cut.
Multiple project windows let you monitor source and destination together. Navigate through source material to set the next cut even during destination playback. Editing takes place via markers to enable 2, 3 or 4-point cuts. Shift and rearrange new parts keeping source material untouched and in position.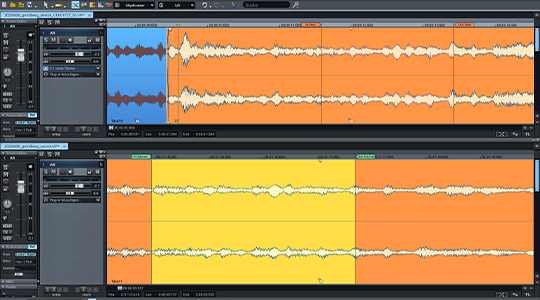 Speed up your workflow around large projects containing many different clips resulting in a reduced track count and improved performance using the dedicated object buffer.
Apply processing independently to each object and in real time with the dedicated buffer: plug-in chains, AUX sends, pitch shifting and time stretching, EQ and automation. Seamlessly work with assets of any format without any conversion required.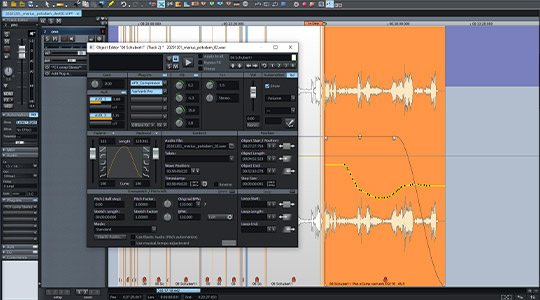 Save time by playing back, editing and even exporting parts of the project while the recording is still running.
Get your programming out to your listeners faster than your competitors. Sequoia enables editing and exporting of material the moment it's captured to speed up your live production.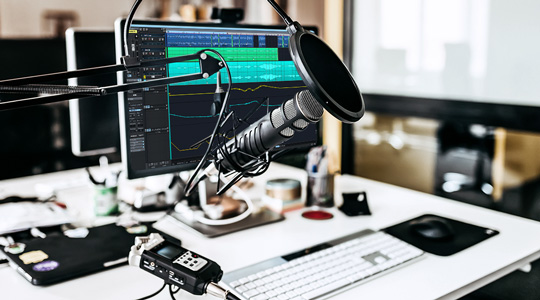 Like there is no cut: Sequoia used asymmetrical curves for natural sounding transitions between different takes. The advanced crossfade editor enables individual fade-in and -out curves for unrivaled flexibility.
Make exact cut adjustments and design object transitions as needed. All fade characteristics can be customised (e.g. length, curve, position in the audio material). Different fade variations can be managed via snapshots for quick comparisons and playback commands can be carried out in order to evaluate transitions instantly.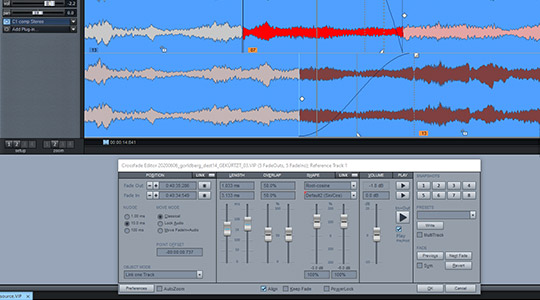 Ensure quality by staying in control of your signal. Analyse frequency curves, phase correlations and loudness progressions. Rely on Sequoia to match international Loudness standards to your current project, or in a batch process.
Sequoia is designed from the ground up to support multiple users. Projects can be accessed from a broadcast database or file server from any workstation on your network. Users can store their profiles and settings (e.g. keyboard shortcuts, color settings, toolbars and crossfade presets) centrally giving the most flexibility to your installation.
Share projects among different workstations, platforms and applications directly using exchange formats such as AAF/OMF. Keep project files updated and meta-tagged with databases and automation systems. Batch export multiple files and use watch folder to perform background conversions.
Keep it clean. Apply spectral view on audio material to identify unwanted artefacts. From clicks to noises – Sequoia is prepared for all cleaning and restoration tasks with the included tools and bundled software.
For when keyboard and mouse isn't quite enough, use your favorite hardware controller to increase your efficiency when working with Sequoia. Hardware controller communicating via EuCon, Mackie Control and Mackie HUI protocols perfectly calibrated to work with Avid® | S6 controllers.
Terence Goodchild Live Audio Engineer (Nils Frahm, Ólafur Arnalds, Johann Johannson, Lambert, Kiasmos, Helen Grimaud, Deutsche Grammophon)
"Sequoia not only gives me a digital first aid kit to solve any problem. It provides a modular toolbox with precise instruments, a rock-solid audio engine and great support, to adapt to nearly any task and situation I can think of. Modern productions require an engineer to handle complex audio scenarios under time constraints often with high responsibility and Sequoia helps me concentrate on my work."
Let's find out which solution fits best to your business needs.
Discover our various services that will improve your efficiency.
Profit directly from our product experts know-how regarding professional audio and video production solutions.