When an event on screen calls for a musical hit or sound effect, the "Insert Hit File" feature will come in handy. Sonicfire Pro 6 comes with a collection of cymbal swells and crashes, whooshes, and dozens of other sounds that are ideal for highlighting a specific event in your scene.

The marriage of production sound elements and music heighten the excitement of a specific or important moment. This technique is increasingly being used by filmmakers and media creators for it's obvious benefits. Hit Files feature gives you easy access to this dramatic (and sometimes comedic!) technique and helps you fine tune the results quickly.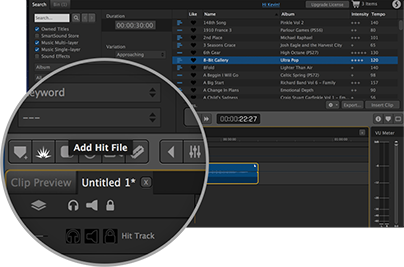 SmartSound offers great Hit Files packs, the first is included with Sonicfire Pro 6, free. More Hit Files packs are available on www.smartsound.com. These packs offer a vast array of sound effects and production elements to add the perfect accent to every visual event. The files on these packs are designed specifically to work with the "Hit Files" feature in Sonicfire Pro 6 that helps you easily find the right sound for your scene.


Hit Files now include sound effect packs from the highly-acclaimed geniusses at BOOM Library. BOOM Library counts to the world's best addresses when it comes to professional sound FX. The products have this specific edge you will not find anywhere else. Both sound professionals and beginners appreciate their sounds.