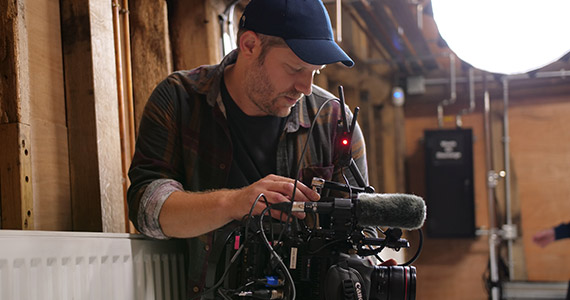 "Working with VEGAS means I can get work done quickly, creatively and at a quality level that I aspire to. It has all the tools I need to edit, to do a creative grade, to refine the image by adding effects and then to finesse the sound to match the image perfectly."
Jake Powley
Videographer, Filmmaker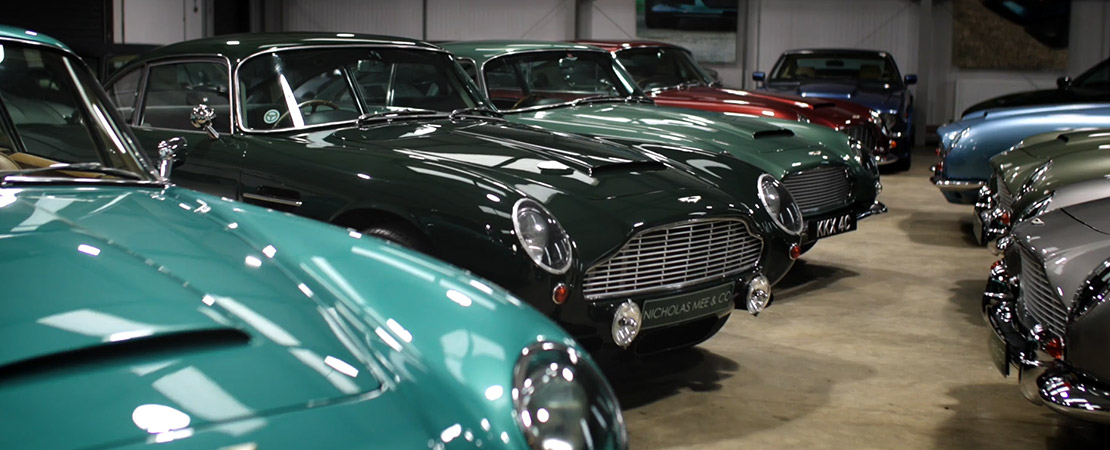 1. What got you into filmmaking?
My father was a film lecturer so I guess that's where the interest started. Growing up it was always in the background and so I was interested but I also have a background is music so the two kind of went together. At the time I was at University, production was really taking off and people were going into TV and other creative stuff. I ended up with a random opportunity to do production running and it sort of all went from there.
2. How do you start a new project?
As with all projects time spent upfront saves you down the line, so it's always important to start with the planning process. If you're working with a client, it's important to be clear about what their objective is and be clear what the essential key messages are. From here it's important to brainstorm with the crew, the client and others to make sure you start with a great idea.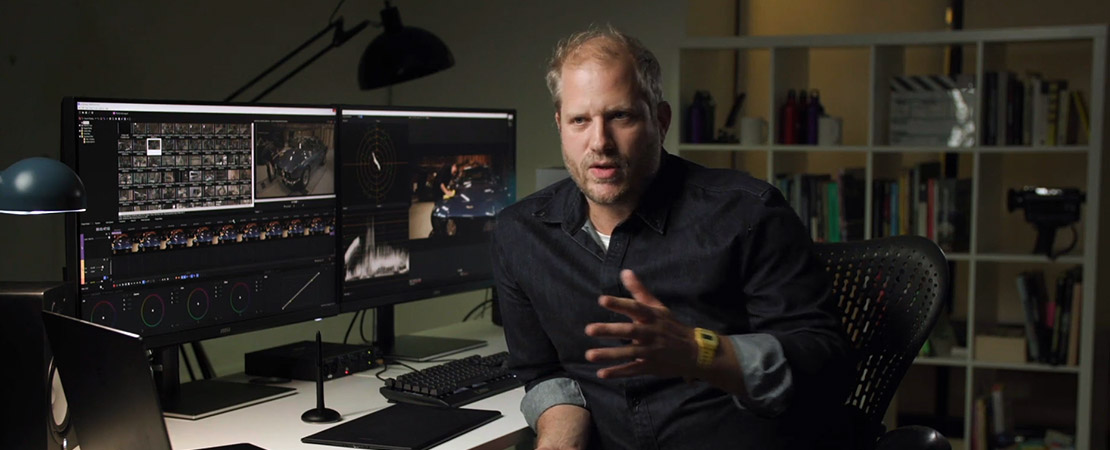 3. How did you build up such a big set of skills?
At the beginning of my career I worked across lots of small productions. That meant I got exposed to lots of disciplines. One minute I was working on audio as a sound man, then time behind the camera and before long I was a series editor. What's really helped me is I have an interest in the tech so I'm happy to turn my hand to anything.
4. Which part of editing is the most challenging?
Looking through all the material at the end of the shoot is time-consuming and can get repetitive. It's definitely the least interesting aspect of production but it's also vitally important. This is where you create the narrative. It's where the story comes together.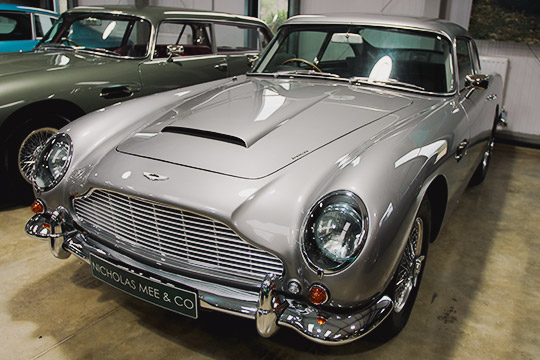 5. What makes VEGAS your NLE of choice?
There are three things that really stand out with VEGAS. The first is the fluid way the editing process works. It's very natural, it feels more like painting with a brush than a technical process. The second is the way colour correction works. The process is quick and powerful. You can add a camera LUT, do a primary and secondary grade, tweak the curves and add an output LUT if needed. It means I can grade as I go along and that really helps the editing process. The third thing that's really useful is the ability to take an event into Effects quickly or tidy up a recording with Sound Forge.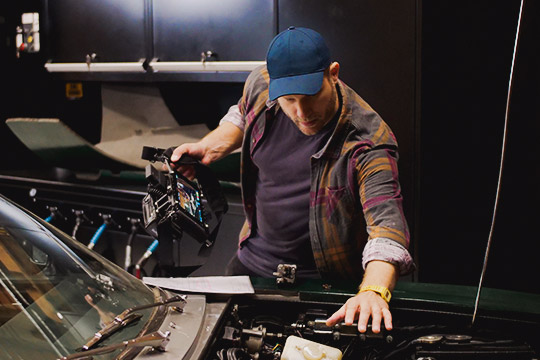 6. What advice would you give to newcomers?
When starting out the best thing you can do is make yourself useful to whoever you're working with, it's the best way to learn.Say yes to every opportunity to get the most experience you can and try your hand at many things. Once you find what you like and what you're good at, you can focus. Shoots usually require interaction with lots of people and often people you don't know. If you're directing it's important to learn how to get the best out of people and keep the crew motivated and focused. Filmmaking is as much about dealing with people as it is about technology and production skills. The more projects you work on, the quicker you learn.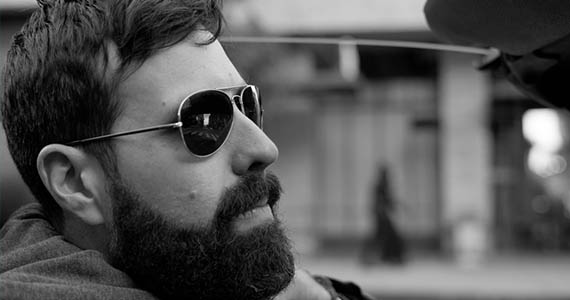 "What I like about VEGAS is that I don't need any special hardware - it works well on any PC. I can start editing on my laptop and move to my desktop. It is just so smooth and fast that it makes it a breeze."
Miguel de Olaso, aka Macgregor
Filmmaker
References
Commercials: Jeep, Nescafé and Lexus; Films: One Minute Worlds, Vivarium
Miguel de Olaso, known professionally as Macgregor, is a cinematographer based out of Los Angeles. Starting to film videos at just 11 years old with a video camera he stole from his parents, now years later, Macgregor is breaking barriers with his award-winning films.
We caught up with Macgregor to learn about his latest project "One Minute Worlds", his creative process, and some tips and tricks he has for editors just starting out.

Q: On your website, you confidently state that you like to create films for fun, and for money. Looking back, now being so immersed in the film making industry both as a hobby and as a profession, at what point in your life did you know this was the path you wanted to take? Have you always been a creative at heart?
A: I guess I have to pull the stereotypical card here - I stole my parents video camera when I was around 11 years old and started filming everything I could. Indiana Jones short films, cowboy duels, star wars miniatures… I've been fascinated with movies ever since I was very young… I would watch them over and over again in our Betamax player -- from The Thief of Bagdad to Ghostbusters. It has always been very clear to me, since I was a kid, that I wanted to be part of movie making in some way.
Q: Between your commercials and films, your work is quite diverse. What is your biggest source of inspiration? What do you believe gives you a creative edge over other editors?
A: Sources of inspiration come from my interests. I really like cars, I have a small collection and like to race them. So I think shooting cars comes naturally. Sci-fi is another very big interest of mine; I spent my teenage years reading Arthur C Clarke books and european fantasy comic books. A lot of my short films have either been sci-fi or had a cinematic edge bordering on otherworldly.

Q: You have been using VEGAS since the early 2000's, now editing with the latest VEGAS Pro. What features or tools do you gravitate towards the most in VEGAS Pro? Which features spark your interest to experiment with further?
A: I think I started with Vegas pro 2.0 back in 2000. Damn! 21 years ago! I remember thinking that this program was much more advanced than what I had been using before. And also very intuitive, within a day I felt very comfortable editing video and mixing audio in VEGAS. This was before any of the modern digital cameras we are used to now had come out, and obviously no DSLRs -- good old DV captured through a firewire cable. What I like about VEGAS is that I don't need any special hardware - it works well on any PC. I can start editing on my laptop and move to my desktop. It is just so smooth and fast that it makes it a breeze.
Q: If VEGAS is your favourite software tool, what's your favourite camera and format to shoot in?
A: These days I have the luck of being able to work on commercials that have the budgets where I can choose whatever tools are best for the job. I've been shooting on Arri Alexa for the last 6-7 years as the quality and images it produces are highly regarded. Nothing rivals it. I also have a couple mirrorless cameras for run-n-gun type projects or where I need a smaller camera for certain shots. I currently shoot with a Fuji XT3, which is mindblowing for the price.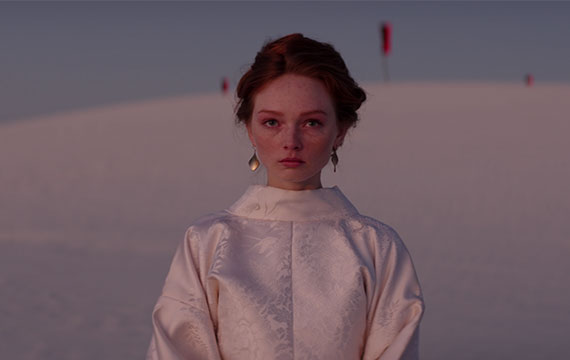 Q: Your latest project, One Minute Worlds, looks absolutely incredible. What's the backstory on that? You mention editing on the go, is your post production workflow constantly evolving?
A: I wanted to make a series of shorts, shot in a way I have not seen on screen. Short, punchy, visually striking, but high quality. I had gathered some ideas over the years and got together with a friend, writer Phil Gelatt, and he wrote a couple of scripts for possible stories. One thing led to another, and I on-boarded Ruairi Robinson to also direct one of the stories - and we ended up in Iceland and New Mexico shooting the first three of the series. For editing now, I upload everything into cloud based storage. This gives me flexibility, and makes me feel safer because I don't have to worry about constantly backing up the data. It also makes it easier because I can edit from any device…. on the go for example, and then continue editing at home without needing to backup files.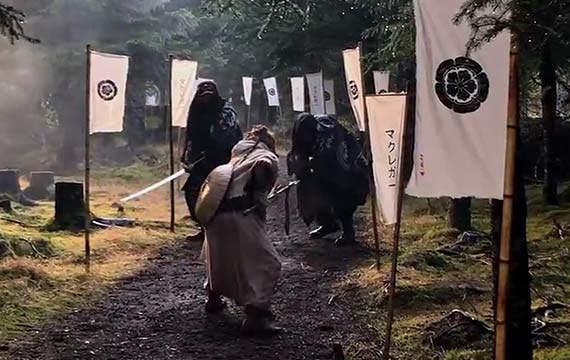 Q: As a successful creator, what words of wisdom can you pass down to editors that are just starting out? What do you wish you knew 20 years ago?
A: There's no excuse now! Get out there, shoot, and start putting together projects! 20 years ago technology could be a barrier for new filmmakers. You had to shoot on film, which was laborious and expensive. Now, for a couple thousand dollars - you can buy everything you need to shoot a film. You could go out with a DSLR right now, and at the end of the day you will have a card full of footage that you can start editing and coloring into a film in your bedroom. It's mind blowing.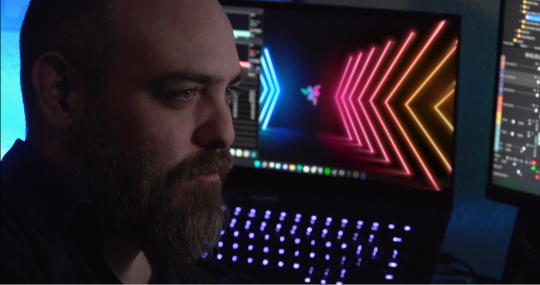 "Hitting the 'flow' in VEGAS is just the best. It's snappy and responsive and all the media reacts to my input the way I want. Even after years of experience with other NLEs and various specialty software, nothing has ever come close to the way VEGAS feels."
Sean Hardaway
Filmmaker
We sit down with filmmaker, Sean Hardaway who recently filmed and edited a video of the Brooklyn Orchestra in cooperation with composer, Olivier Glissant.
In the interview Sean talks about how it all started with watching films that his father curated, his creative process today and why learning to vibe is almost as important as being good at the thing you're doing.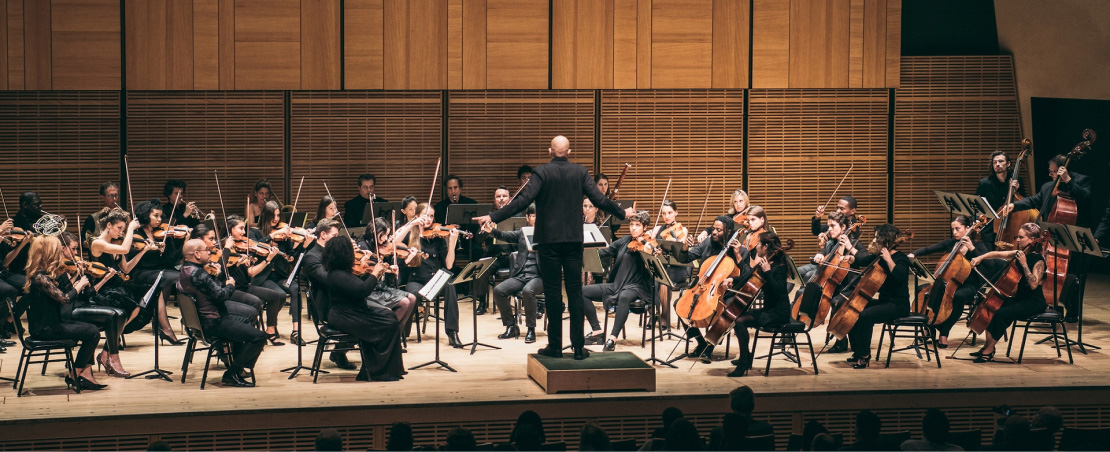 1. What got you into filmmaking?
My father. He curated the films I watched growing up and took the time to watch them with me. He'd always ask me questions about how I thought they might have achieved an effect or why they shot the way they did. I'd offer a guess and then he'd explain it to me. At some point, my daydreams turned into mindmovies, and after that, I couldn't imagine doing anything else.
2. How do you start a new project?
Depends on the project and at what point I get involved, but almost every time I try to get a handle on what the aims of the project are and focus on getting to a point where everyone can see that the project is going to work. Often this translates to putting together a really solid sequence that gets people excited.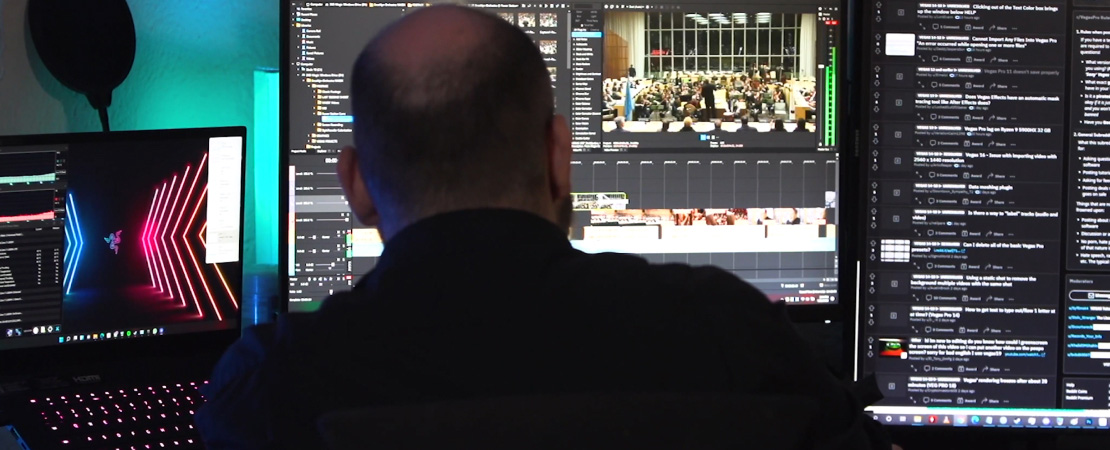 3. How did you build up such a big set of skills?
This sounds like such a shill response but it's really true - shooting and editing with VEGAS as a teenager and then gauging the response from people I trusted was so insanely formative. I developed a sense of worth and a lot of cinematic flourish that became ingrained early on.
4. Which part of editing is the most challenging?
Boredom and when the sparks aren't flying. It can be a real grind. Also, when I think something I've done is great and the client, collaborator, or some trusted source is like - "this is rough" - it can be hugely depressing. But that's true of anything, isn't it?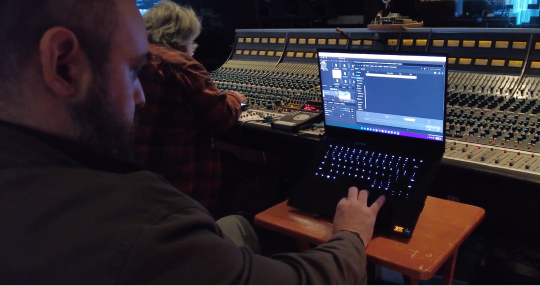 5. What makes VEGAS your NLE of choice? ?
Hitting the "flow" in VEGAS is just the best. It's snappy and responsive and all the media reacts to my input the way that I want it to. Even after years of experience with other NLEs and various specialty software, nothing has ever come close to VEGAS in edit feel.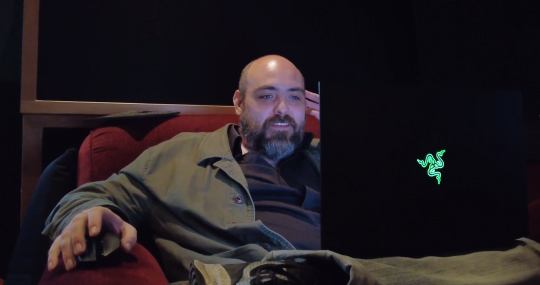 6. What advice would you give to newcomers?
Be as fun of a person to work with as you can manage, stay positive, and try not to assume the worst. Filmmaking is so personal for so many people and learning to vibe is almost as important as being good at the thing you're doing.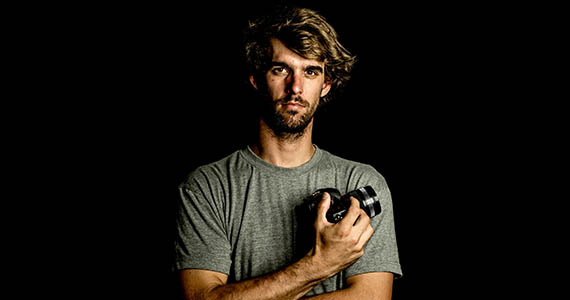 "I edit during my travels on a laptop, so I need to work with limited computing power, which often becomes an issue with heavy 10-bit 4K video formats. Luckily when I create proxies together with enhanced GPU decoding in VEGAS Pro, the preview runs smoothly even with effects applied."
Laci Kobulsky
Filmmaker, Photographer
References
Director, Cinematographer: "Aaron Hadlow: TWENTY", TheKiteMag, IKSURFMAG, Kiteworld Magazine & People Are Awesome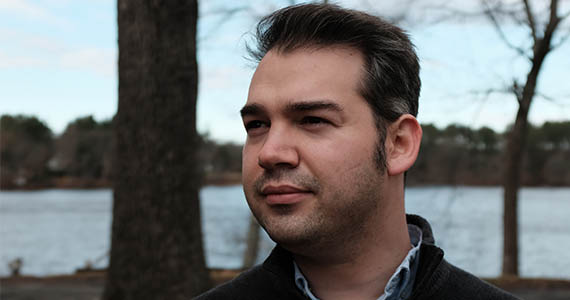 "VEGAS Post has significantly streamlined my workflow. From keying to advanced color correction, to complex titling and more, VEGAS Post puts so many tools I regularly use into the same ecosystem."
Alex Chaloff
Director, Bucket's Moving Company
References
Fender, AEA Ribbon Mics and Preamps, Brian Wilson, Jimmy Page, Jerry Lee Lewis, Luke Bryan, Florida Georgia Line, Stone Temple Pilots, Jennifer Nettles, Brad Paisley, NFL, Bridgestone, Fender, L'Oreal, Spotify, ABC, RAM trucks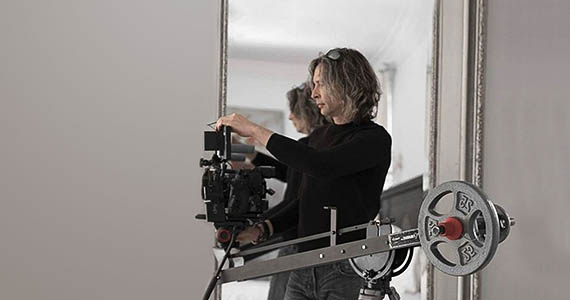 "The solid integration of FXhome's compositing tools added to VEGAS Post is something that dreams are made of! The interface is so clean in both pieces of software, and everything is intuitively found where I think it should be. For me, to be able to stay in one cohesive ecosystem, means that my workflow isn't hampered by switching between separate software packages to get the job done.
Combining VEGAS Pro amazing editing capabilities, and staggering selection of audio and video plug-ins, with a very serious piece of compositing software, has been an amazing feat."
Jamie Oxenham
Independent Filmmaker, Editor
References
Oxenham Design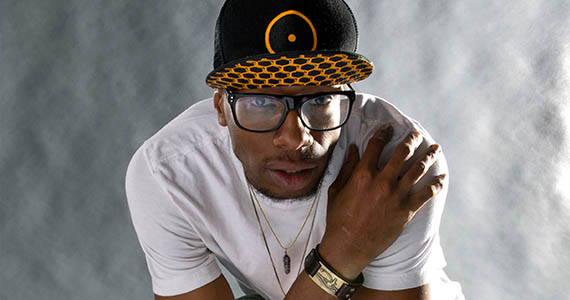 "In the early 2000's, I started using VEGAS Pro to make anime music videos. VEGAS has always been the most efficient. Since then I've taken on media projects of all sizes, from film editing to sound design, from motion graphics to visual effects. To this day, it remains my content creator tool of choice."
Nerdsworth
Artist, Producer, YouTuber
References
Smosh, Popsikl, Sa'ann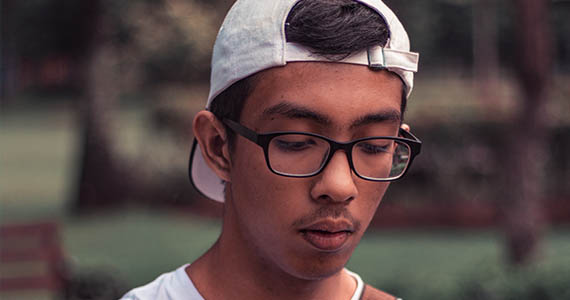 "I like how the unified coloring workflow in VEGAS Pro lets me color correct everything in one effects chain without adding multiple effects like brightness & contrast, color corrector, color curves & white balances. Coloring in VEGAS Pro is now much better than ever before."
Dato Aliff Alex
Videographer, Filmmaker
References
Lensa Langkasa Production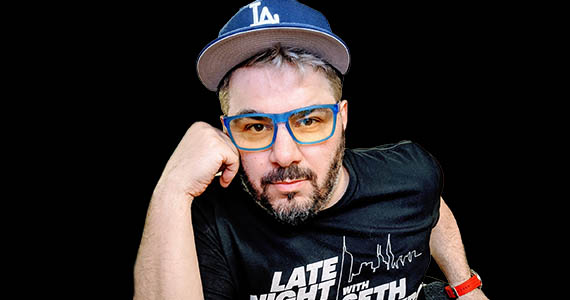 "VEGAS Pro has always been my go-to editing software and in TV speed is super important. VEGAS continues to bring what I need to succeed: speed and dependable performance.
My favorite feature has to be the Color grading workflow and Optical-flow slow motion. We have an amazing community and I'm glad VEGAS makes it a priority to listen to our feedback."
James Stamoulaktatos
Engagement Producer, The Weather Network
References
Stormchasers, The Weather Network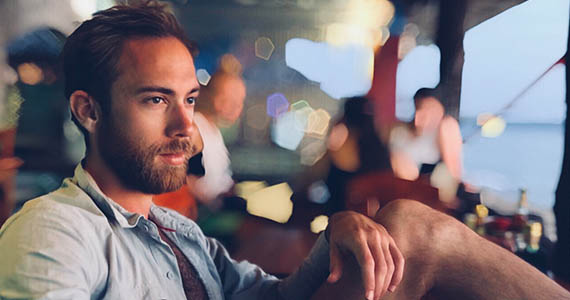 "I've tried most editing software, but nothing compares to the freedom of VEGAS Pro's timeline and workflow. VEGAS simply allows you to edit your way so you can worry less about the technical and more about the creative. I'm super in love with the Unified Color Grading. It's a huge time saver that I didn't know I needed."
Hodges Usry
Filmmaker
References
Coke, Chevrolet, Universal Records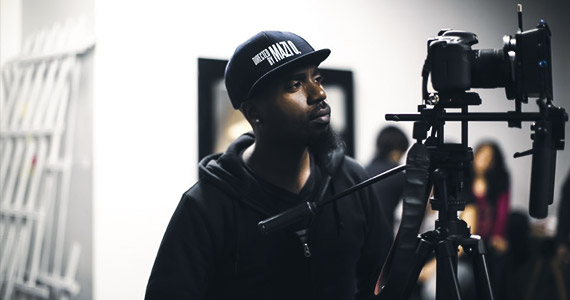 "I have tried other NLEs in my career, but I prefer VEGAS Pro because it's very intuitive and it allows me to create content in lightning speed, and in my industry sometimes speed is everything. When Cardi B. was scheduled to perform at the BET hip-hop awards her manager called me and said they needed an intro with various clips of her for the performance, and they needed it in an hour. I instantly knew what I wanted to do so I jumped right into VEGAS Pro and was able to create an incredible intro using 3D glitching transitions without any additional plug-ins."
Mazi Oyo
Director/Editor and Head of Video & Digital Content for the Akonik Label Group
References
Akon, Ceelo Green, Cardi B., Jadakiss, Meek Mill, Raekwon, Redman, Black Rob, Styles P., Sheek Louch, French Montana, Lil Cease, Lil Kim, Maino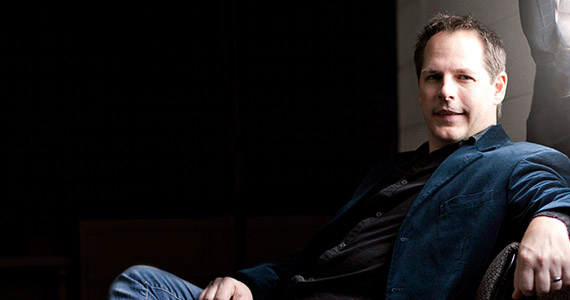 "I have tried many production programs. VEGAS Pro is my program of choice. In this industry, time is a precious commodity. VEGAS has the power that I need to create complex mixes and its ease of use allows me to work fast and efficiently."
Anthony Casuccio
Music Veteran, Author, Educator, Speaker
References
Tony Bennett, Roy Orbison, Linda Ronstadt, Glenn Miller, Johnny Cash, Lifehouse, Kasey Chambers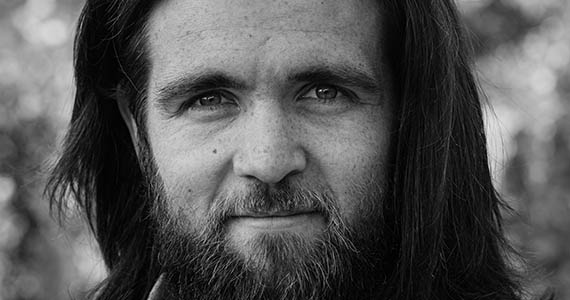 "I'm using VEGAS Pro because it's among the – if not the single – most stable NLE software out there. I had various issues, crashes and bugs with other programs but then a befriended editor recommended VEGAS Pro. I gave it a try and stayed due to its stable performance and easy to use features. From my experience VEGAS Pro is very easy-to-use for newcomers and veteran editors alike."
Martin Seng
Video Freelancer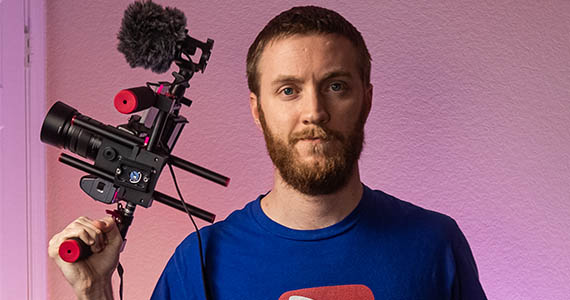 "I never knew how much I needed VEGAS Post until I got my hands on it! VEGAS Effects lets me easily create beautiful visual effects that you would see in any of the latest superhero movies. VEGAS Image makes it simple for me to create posters, cover art, thumbnails and more without hassle. VEGAS Post is truly the ultimate package that I use every single day and don't know how it can get any better than this!"
Josh Crahen
YouTuber, Livestreamer
References
Scrapyard Films
20GB cloud storage
Free upgrades
Limited HD stock footage
Text-2-Speech, Speech-2-Text, Quick Upload, File Drop
50GB cloud storage
Free upgrades
Unlimited HD stock footage
Text-2-Speech, Speech-2-Text, Quick Upload, File Drop
VEGAS Pro Edit
The creative standard for video and audio
Upgrade: VEGAS Pro Edit
The creative standard for video and audio
VEGAS Pro Edit 365+
The creative standard for video and audio
VEGAS Pro Edit 365
The creative standard for video and audio
VEGAS Pro Edit 365
The creative standard for video and audio
Select a purchase option:
€ 149,00
Regularly € 199,00
Available until December 5, 2023
VEGAS Pro Suite
Integrated tools for content creators
Upgrade: VEGAS Pro Suite
Integrated tools for content creators
VEGAS Pro Suite 365+
Integrated tools for content creators
VEGAS Pro Suite 365
Integrated tools for content creators
VEGAS Pro Suite 365
Integrated tools for content creators
Select a purchase option:
€ 199,00
Regularly € 299,00
Available until December 5, 2023
VEGAS Pro Post
End-to-end production workflow
Upgrade: VEGAS Pro Post
End-to-end production workflow
VEGAS Pro Post 365+
End-to-end production workflow
VEGAS Pro Post 365
End-to-end production workflow
VEGAS Pro Post 365
End-to-end production workflow
Select a purchase option:
€ 349,00
Regularly € 399,00
Available until December 5, 2023