Ever wanted to learn to make your own videos? Have a lot of footage of friends and family and want to turn it into a memorable home movie for everyone to enjoy? Pros follow simple steps when editing video, and you can, too! Download a free demo of VEGAS Movie Studio and put this process to work for you, and you'll be creating your own fun and exciting videos in no time. Read on!
First thing – take a breath! It might seem pretty overwhelming, but if you break it down step by step, you can focus on one thing at a time and keep everything straight as you go. It may seem like a big job, but it's really just a series of little jobs done in the right order. You can do it!
Every project is a little different, but editors generally follow well-established steps.
Take a look at all your video – which clips do you like? Which clips really speak to you and compel you to share them? Choose everything you want to be in the final video, and make note of it. Then only bring the video you want to use into your editing project. That saves you a lot of time. Don't forget to look through photos, too, because they can help make a memorable video.
It's easy to think that you should immediately discard videos that have problems. But don't always reject video clips you really like just because they have some kind of a problem, like being shaky. From basic image stabilization to a set of a color-correction tools to fix bad color in video or in photos, VEGAS Movie Studio has the tools you need to rescue footage you didn't think you could use.
Professional video editors never work without a plan, so make one! You need to know what you want your video to be before you start. Great videos tell stories, and yours should too. Decide what story you want to tell, and let it guide your decisions on which clips to use and how to use them. Also decide how you're going to use transitions, text, and music. All of those elements help you tell the story you want to tell. A plan is vitally important to getting all of it done right.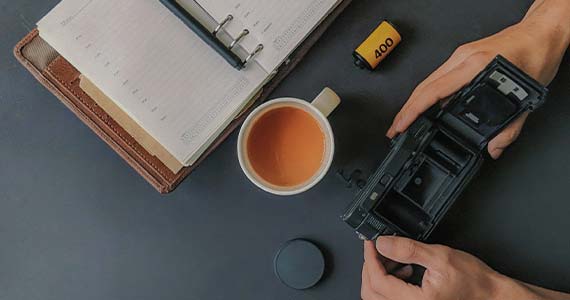 A rough cut basically means assembling your video and photos in the order that tells your story and changing them around as needed to get them into a perfect sequence. Don't worry about precise edits at this point. Just get your clips into the proper order. This can often be the most fun part of editing, because you're really letting your creativity loose as you put your plan into action. Don't be afraid to experiment, and don't worry if you think something doesn't really work at this stage. Change whatever you need; it's much easier at this step than it will be further down the road.
VEGAS Movie Studio features a storyboard view, which makes laying out your footage in a rough cut quick and easy, just like arranging photos on a table. The storyboard makes rough cutting easy, quick, and fun.
After the rough cut, refine your video. If you used the storyboard, VEGAS Movie Studio has already arranged your rough cut on the timeline! From there, trim your clips down to perfect timing. This means cutting out any parts of the clips that don't move the story forward. Here you really begin to refine your edit. Choose transitions, which define how your movie moves from one clip to the next. Most of the time, these will just be straight cuts between clips where one clip starts as soon as the previous one ends, but you could use fades or dissolves to go into or out of or between scenes or sections of your video. You can use other kinds of transitions like wipes or flashes. too. But be really creative and consistent with them, and don't overdo them. You don't want to overwhelm or exhaust your audience with too much, and that's easy to do if you overuse transitions!
Now add visual effects like slow motion or cool color effects. Add titles, music, and sound effects. Go according to your plan, but again, don't be afraid to experiment. Let your imagination loose. Great music can really enhance a video, so use it well. Use effects to draw attention to details you want your audience to notice, or to set the right mood. If you have photos, you can pan or move them around, or create a cool slide show with neat transitions in between. Be creative!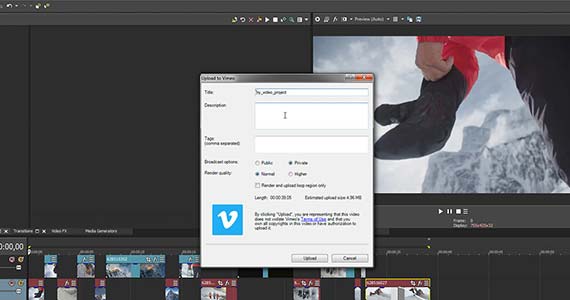 The last step is to create the final video file for viewers to watch. This is called rendering, and it's where you finalize your film and create a new, complete video file for your audience to watch. Different ways of showing your video, like putting your video on a streaming service like YouTube have different requirements. Fortunately, video software like VEGAS Movie Studio includes easy-to-use templates which do the work for you; just choose the right template, and with a click, your video starts rendering. When it's done, you'll have a brand new video to share.
VEGAS Movie Studio also makes exporting for YouTube or other streaming services a snap; with just a single click, VEGAS renders your video to the right format and automatically starts the upload process!
Following those basic steps makes creating your own videos simple and easy, but VEGAS Movie Studio offers an even easier way, with the Guided Video Creator. It guides you through the entire process step-by-step, and lets you choose your video clips, arrange them, and add all the titles, FX, music, and text you need, all in a single window. It couldn't be easier! Once you feel comfortable enough to take control of the process yourself, go to the timeline and unleash your creativity. From your very first video edit to more advanced editing as you learn and grow, VEGAS Movie Studio has you covered.
VEGAS Movie Studio has everything you need to get you started editing your own great videos. With a simple, easy-to-understand interface and an intuitive workflow, powerful tools, and easy export options, VEGAS Movie Studio puts video editing right at your fingertips. There's no better way to learn video editing than with VEGAS Movie Studio! Download a free demo today!
VEGAS Movie Studio 17
Fast, easy movie making
VEGAS Movie Studio 17
Fast, easy movie making
Select a purchase option:
VEGAS Movie Studio 17 Platinum
For advanced video editing
Upgrade: VEGAS Movie Studio 17 Platinum
For advanced video editing
VEGAS Movie Studio 17 Platinum
For advanced video editing
Valid until May 26, 2021
37% discount
Only now for free in this offer:
✔ NEW! Boris FX Continuum Stylize Unit ($199 value)
✔ NewBlue Elements 3 Overlay ($99 value)
Valid until May 25, 2021
50% discount
Only now for free in this offer:
✔ NEW! Boris FX Continuum Stylize Unit ($199 value)
✔ NewBlue Elements 3 Overlay ($99 value)
VEGAS Movie Studio 17 Suite
The complete package for video editing
Upgrade: VEGAS Movie Studio 17 Suite
The complete package for video editing
VEGAS Movie Studio 17 Suite
The complete package for video editing
Valid until May 26, 2021
32% discount
Only now for free in this offer:
✔ NEW! Boris FX Continuum Stylize Unit ($199 value)
✔ NewBlue Elements 3 Overlay ($99 value)
Valid until May 25, 2021
Save 50%
Only now for free in this offer:
✔ NEW! Boris FX Continuum Stylize Unit ($199 value)
✔ NewBlue Elements 3 Overlay ($99 value)