VEGAS Pro 15
Professional video & audio production and disc authoring
Upgrade: VEGAS Pro 15
Professional video & audio production and disc authoring
VEGAS Pro 15
Professional video & audio production and disc authoring
From

$199.00
Regularly $599.00
Valid until May 29, 2018
Filmmakers are increasingly placing high demands and heightening their expectations for creative video editing software. As their demand grows, possibilities in this field are flourishing accordingly. New technologies, advanced recording devices at higher resolutions and greater volumes of data are promoting new options in the field of creative video editing. VEGAS Pro brings powerful professional video and audio editing to the marketplace and sets new standards in the field of professional creative software.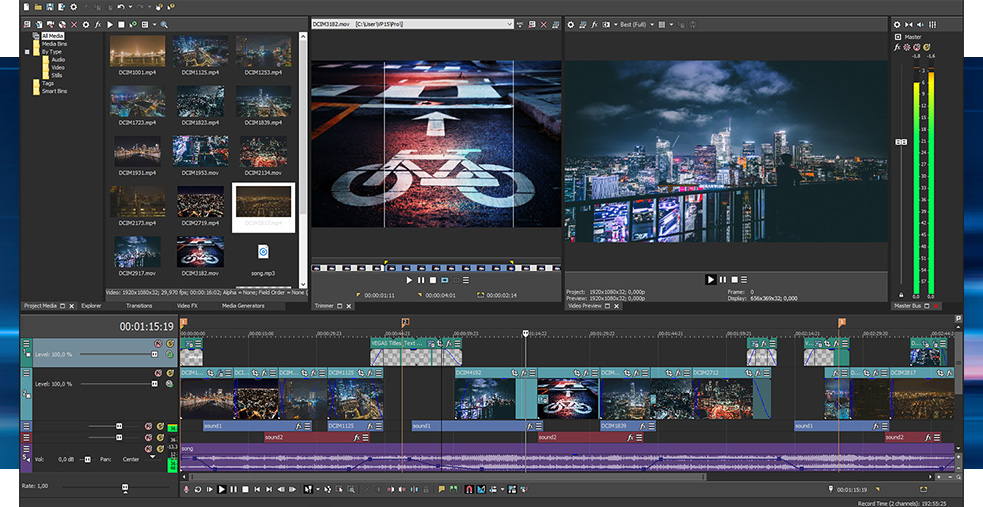 Professional creative software programs often provide a comprehensive package with sophisticated functions for impressive 3D-compositing, chroma keying and motion tracking. Making use of these features always depends on the extent of the project, the individual's style and other external factors such as budget and time. Functions, such as video stabilization and title and text fade-ins, however, are used more often than the animation of objects in 3D-space.
The intuitive NLE video editing software, VEGAS Pro, offers powerful tools for both sophisticated functions as well as more common features. From the very beginning, VEGAS Pro provides an intuitive drag-and-drop workflow and offers various possibilities to compile raw footage into a great film leaving you and your audience completely satisfied with the finished product.
With VEGAS Pro, media is easily imported, edited and converted into high-resolution video formats. Generating colors, defining your own styles and titles, preserving shaky video footage with video stabilization and professional disc authoring & burning are just some of the workflow features available in VEGAS Pro. The user interface in VEGAS Pro is simple and straightforward - it offers all the necessary functions and features which can be used in a very quick and intuitive fashion. For more advanced needs, VEGAS Pro also has an array of features for 3D track motion, multi-camera and high frame rate support and much more.
No matter what the needs of your video project are, creative software should always offer reliable performance while exercising powerful professional-level video and audio editing - and all of this can be discovered with VEGAS Pro.

Although the video editing process can be very technical, it shouldn't lack creativity. There are many techniques that you can use to make your video stand out and engage your viewers.
Editing in post-production is more than just cutting out scenes you don't like or trimming your footage. When putting effort into the production of your videos, you can really create some unique content in post-production. To shape your content, post-production is crucial. All the pieces come together and your vision starts to form. Post-production is the process whereby all of your elements and assets are brought together to create a story and realize the vision you have in mind. So, having a professional video clip editor is required to bring your visuals and the message you want to convey to life. With VEGAS Pro, you get all the tools and features you need to bring your story to life.

If you want to engage your audience with what they see on the screen, the key is to create memorable content. Video editing involves communicating with your audience by adding drama, emotions and illusions. Knowing where and when it is appropriate to include certain features is key to creating an engaging video. Adding features and effects to your videos can really make all the difference. With the right video clip editor and some creativity you can easily figure out which effects work best in your video to keep your audience captivated.
Video stabilization is just one of the tools that can be used to enhance your videos and to rescue shaky footage that you first thought was unusable. When shooting videos with action cams, cameras mounted on moving objects, or simply zooming in, chances are that your video will be shaky. With the video stabilization features included in VEGAS Pro, you can eliminate unwanted motion and take out camera shake while moving around. The powerful native image stabilization provided by proDAD Mercalli 4 in VEGAS Pro is very efficient in stabilizing shaky footage and enhancing the quality of your videos. That way you don't have to worry about how you are filming - you'll always get the perfect shot using VEGAS Pro's video stabilization function.

After adding all the desired features to your video with the non-linear video clip editor VEGAS Pro, you can bring your video to life by adding and enhancing audio, sound effects and removing background noise. Music can totally change the perception and mood of a video and the recorded footage will convey a completely different message when accompanied with music and sound. Applying various visual and audio effects to a video will achieve the necessary result and message you are trying to convey. With VEGAS Pro, you'll get all the audio features you need for professional results.
With the powerful and stable video editor, VEGAS Pro, performing sophisticated professional-level editing tasks is not just efficient, but you can also convert your video into various formats in no time at all. The export options in VEGAS Pro work in perfect harmony with the digital world. Realizing every project in brilliant quality is possible without any video format or hardware connectivity limitations. Projects and video files can be delivered in a variety of common file formats in up to 4K resolution. This makes it perfect for sharing your videos online, over social media, on your website or burning to DVD or Blu Ray dics. The integrated video format converter in VEGAS Pro enables you to convert your film to whatever format you need with just a few simple clicks.
VEGAS Pro is the video editor that will serve all your needs and help you realize your film making aspirations – a truly remarkable creative software package that sets no limits on your creativity.
VEGAS Pro 15 Edit
Upgrade: VEGAS Pro 15 Edit
$249.00
Regularly $698.00
Valid until May 30, 2018
$150 discount
Included as part of this offer:
Boris Continuum Image Restoration ($299 value)
From

$149.00
Regularly $399.00
Valid until May 29, 2018
VEGAS Pro 15
Upgrade: VEGAS Pro 15
From

$199.00
Regularly $599.00
Valid until May 29, 2018
VEGAS Pro 15 Suite
Upgrade: VEGAS Pro 15 Suite
From

$299.00
Regularly $799.00
Valid until May 29, 2018