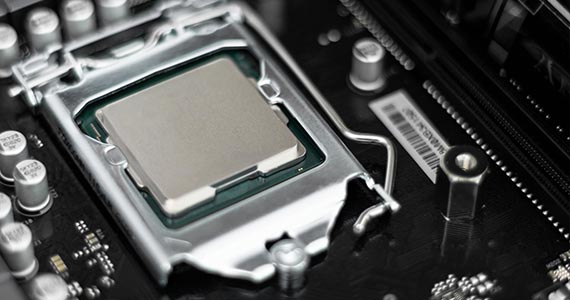 Obviously, your video software needs to be compatible with your computer's operating system, be it Windows, Mac OS, Linux, or others. But you also need to make sure it's compatible with your system hardware, like the CPU, RAM, and graphics card. This is a two-way street – you can match the software to your hardware, or you can upgrade your computer to match the software you want to use if you need to. It's better to upgrade your hardware if you can, in order to take advantage of as many cutting-edge software features and video formats as possible, but if an upgrade isn't in the cards, or you're working on a laptop, then check the minimum computer system requirements for the software and see if it will run on your machine.
Most of the latest camera recording formats offer extremely high-quality, high-resolution footage suitable for robust video work. While that's great for quality video, it also means that your computer must process an enormous amount of data per second while the video plays or is rendered into a final file. If your computer's CPU can't keep up, then you'll experience dropped frames when you play or scrub through your timeline, and that results in choppy playback, or really long render times. GPU acceleration takes advantage of the power of your computer's graphics card to help process the data.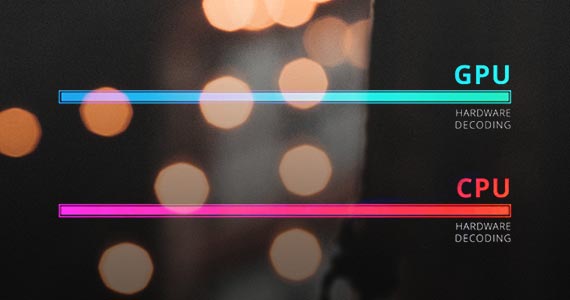 This gives you fewer dropped frames when you play back high-quality video on your timeline. GPU-acceleration also help keep up real-time playback when you add processor-intensive elements like video FX and transitions to your work. GPU-accelerated encoding cuts down render times significantly, so you'll have finished videos much faster. All this means you'll spend less time waiting and more time working and being creative. Look for software which offers GPU acceleration, especially if you plan to work with 4K footage!
Much like support for camera formats, you want support for the most common delivery formats, too. Often these are the same formats, but you want to tailor your renders for the way your audience will watch your videos. Will they watch on YouTube, Vimeo, Facebook, or other online video streaming?
Exporting to the right format for any of these has unique requirements. Pick software which can deliver to all of these formats and more. Also, you want software that takes as much of the guesswork out of it as possible, so look for software which has render templates to match the requirements for these sources and formats.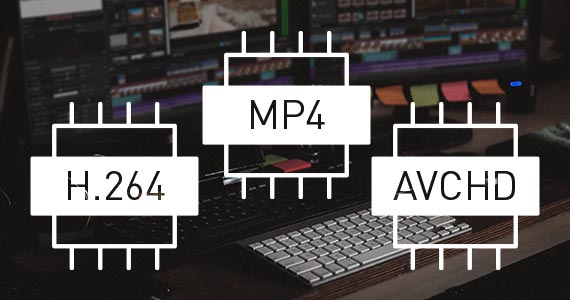 There are a lot of video formats out there! Whether you'll be working with 1080p, 4K, MP4, AVC/AVCHD, HEVC, H.264, LOG, HLG, or the many other format choices, look for software which supports the format of the footage you'll use -- but just as importantly, look for support of a broad range of formats. As your work and skill expand, you'll use many different formats. Also, as you grow in your work, you'll start to take advantage of advanced aspects of video formats, like High Dynamic Range (HDR). Be sure your software has you covered!
A great video editor puts powerful tools and features at your disposal. Most have common tools like color correction, text generation, chromakey, and other FX. Some feature fully customizable interfaces, so you can lay out your workspace and tools however you want. Others have convenient features like mode-based workflows which arrange the interface for the task at hand and put the tools you need right in front of you, which is great if you're working on a single screen such as a laptop.
There's an often overlooked, but critically important question you need to answer before you make your final choice of editing software: does it work the way you want to work, or does it make you work the way it wants you to? Look for software which works the way you want, not the other way around! Some software has very set ways of doing everything, and an interface which can only be set up in certain ways.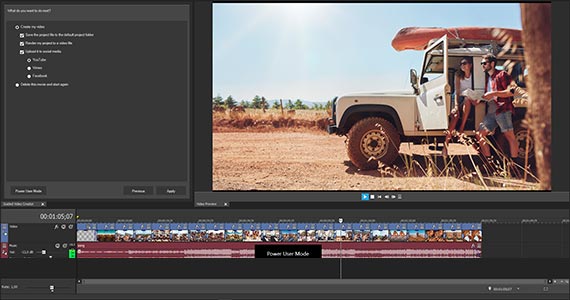 With beginners in mind, some feature tutorials or assisted worfklows, like the Guided Video Creator in VEGAS Movie Studio. Always keep in mind what you want to do, and make sure the editor you choose has the tools to do it. Also remember that as you do more and more editing, you'll want to take advantage of more and more features, so choose an editor which can grow with you.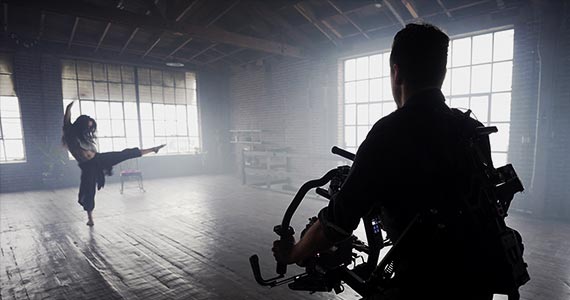 The best software for you gives you the power to decide your own workflow and lets you customize the interface to set it up in a way that feeds your creativity instead of blocking it. When the software really matches your style, it seems intuitive and easy. If it makes you work a certain way, it can seem to get in your way, and that's no good for productivity or creativity. Get the software which works your way and lets you create freely!
VEGAS Movie Studio has everything you need to get into editing your own great videos. Feature-packed and customizable, VEGAS Movie Studio gives you a Guided Video Creator to help you through your very first video edit. When you're ready to edit on your own, take advantage of an intuitive interface with mode-based workflows, powerful tools, GPU acceleration, and customizable templates for the most popular export formats. As your projects get more complex, VEGAS Movie Studio offers advanced FX tools like chromakey, motion tracking, Bézier masking, as well as very powerful versions of common tools like color correction and image stabilization. VEGAS Movie Studio has everything a beginning or advanced editor needs to unleash your creativity and produce exciting videos. There's no better way to jump into video editing than with VEGAS Movie Studio!
VEGAS Movie Studio 17
Fast, easy movie making
VEGAS Movie Studio 17
Fast, easy movie making
Select a purchase option:
VEGAS Movie Studio 17 Platinum
For advanced video editing
Upgrade: VEGAS Movie Studio 17 Platinum
For advanced video editing
VEGAS Movie Studio 17 Platinum
For advanced video editing
C$62.99
Regularly C$99.99
Valid until June 23, 2021
37% discount
Only now for free in this offer:
✔ NEW! Boris FX Continuum Stylize Unit (C$219 value)
✔ NewBlue Elements 3 Overlay (C$139 value)
C$49.99
Regularly C$99.99
Valid until June 22, 2021
50% discount
Only now for free in this offer:
✔ NEW! Boris FX Continuum Stylize Unit (C$219 value)
✔ NewBlue Elements 3 Overlay (C$139 value)
VEGAS Movie Studio 17 Suite
The complete package for video editing
Upgrade: VEGAS Movie Studio 17 Suite
The complete package for video editing
VEGAS Movie Studio 17 Suite
The complete package for video editing
C$100.00
Regularly C$149.00
Valid until June 23, 2021
32% discount
Only now for free in this offer:
✔ NEW! Boris FX Continuum Stylize Unit (C$219 value)
✔ NewBlue Elements 3 Overlay (C$139 value)
C$74.49
Regularly C$149.00
Valid until June 22, 2021
Save 50%
Only now for free in this offer:
✔ NEW! Boris FX Continuum Stylize Unit (C$219 value)
✔ NewBlue Elements 3 Overlay (C$139 value)