VEGAS Pro 15
Professional video & audio production and disc authoring
Upgrade: VEGAS Pro 15
Professional video & audio production and disc authoring
VEGAS Pro 15
Professional video & audio production and disc authoring
From

C$263.00
Regularly C$799.00
Valid until May 29, 2018
Professional film productions should ideally go smoothly. For this, correct hardware is just as important as the professional video editor. Here, you'll learn what to look for when choosing a computer for efficient and straightforward movie editing.
A good computer isn't a replacement for a professional video editor or video editing skills. But it can make your work considerably easier and save rendering time. If you have a powerful PC, you can fully concentrate on your story, special details and powerful effects. This text contains suggestions and tips to keep in mind next time you're buying or upgrading your computer to let you fully enjoy maximal computing power. Only this way can you focus on what's important.
Important hardware components of your computer:
Solid state drive (SSD)
RAM
Graphics card
Processor
Investment in good hardware may first appear as an unnecessary expenditure, as you already own professional studio software, such as VEGAS Pro. But this is a wrong conclusion: The interaction of the creative software and hardware is essential for a smooth workflow, speed and efficiency. Here we will explain what each hardware component does.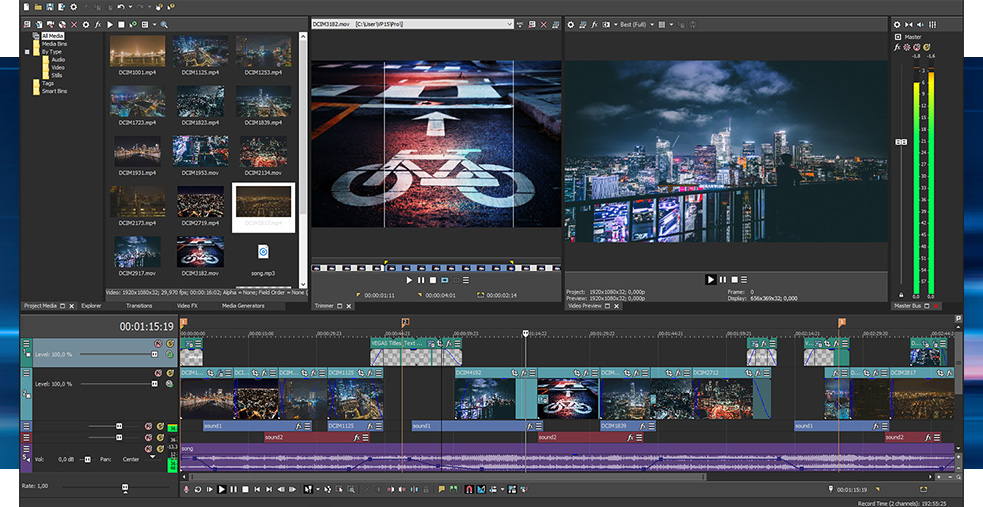 The most important investment for your video editing program is a fast disk drive (SSD). A stronger drive makes your computer more flexible, giving it faster access to your material and your video editing software. This results in shorter render, loading and export times. Additionally, an SSD is quiet, which is a pleasant side effect, making work a whole lot more pleasant. On average, an SSD costs twice as much as a traditional disk – but it's money well spent.
Bigger RAM increases editing speeds. Most modern video editing programs recommend at least 4 GB RAM. However, if you work professionally, it is recommended to have even more RAM. Professional video content creators rarely have less than 8 GB RAM. Although this isn't always applicable, as a rule, the more RAM, the better.
Your computer's graphics card is responsible for controlling the graphics output. As you can imagine, this is very important for video editing. Most professional video editing software packages specifically state which graphic card is recommended. So, before you buy a new graphics card, find out what the software provider has to say on the subject. For VEGAS Pro, you can read the system requirement information on the product web page.
Faster processors result in faster render times. But the effect won't be much if you've minimized on SSD, RAM and graphics card parameters. The interaction of all hardware components is crucial, and the processor alone isn't enough to make your computer faster. Software providers make recommendations even for processors. So, the same applies: Read the related websites before investing your money.
At the end, everyone must decide for themselves how much money to invest in their video production software and hardware. These recommendations should be seen solely as guidelines. Depending on the use case and work intensity with the professional editing software, requirements vary. For this reason, you should consider what your personal priorities are. This is how you can create your own video studio.
VEGAS Pro 15 Edit
Upgrade: VEGAS Pro 15 Edit
C$379.00
Regularly C$898.00
Valid until May 30, 2018
C$220 discount
Included as part of this offer:
Boris Continuum Image Restoration (C$299 value)
From

C$219.00
Regularly C$599.00
Valid until May 29, 2018
VEGAS Pro 15
Upgrade: VEGAS Pro 15
From

C$263.00
Regularly C$799.00
Valid until May 29, 2018
VEGAS Pro 15 Suite
Upgrade: VEGAS Pro 15 Suite
From

C$369.00
Regularly C$999.00
Valid until May 29, 2018