VEGAS Pro 15
Professional video & audio production and disc authoring
Upgrade: VEGAS Pro 15
Professional video & audio production and disc authoring
VEGAS Pro 15
Professional video & audio production and disc authoring
From

C$263.00
Regularly C$799.00
Valid until May 29, 2018
Non-linear video editing is a type of video editing where raw material from analog or digital video sources is transferred to the hard disk and cut and edited there in any order, or non-linearly.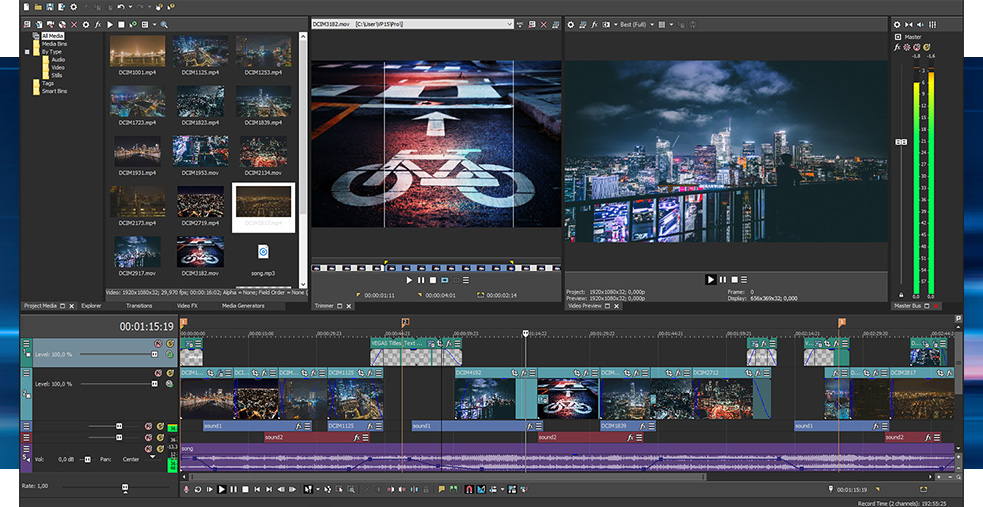 Non-linear video editing, or NLE, describes video editing used in the digital sphere. When raw material is transferred to a computer hard disk, it becomes possible to edit it independently of its linear order without having to reserve space for intermediate scenes. Additionally, individual clips can also be used repeatedly. By copying files to the hard disk, it is also possible to make various corrections to the material. You can conduct color correction, adjust brightness and contrast and add dissolves and effects.
The so-called timeline displays your recorded digital video and audio files. After you have edited, you can render the entire material with effects and transition to create a finished movie.
Professional video editing software such as VEGAS Pro brings together comprehensive functions and possibilities of non-linear video editing with powerful effect editing, efficient workflows and comprehensive DVD authoring.

Back when electronic video production was still in its infancy, linear (tape-to-tape) editing was the only option for altering video recordings. In the 90s, non-linear video editing became more popular and opened a whole new world of possibilities for video creation and editing. Non-linear editing was at first not greeted by everyone, and many editors were reluctant to accept this type of editing. In addition, performance problems and uncertainty about how to view the new flexibility were recurring issues. At the end, however, the advantages of non-linear video editing became so clear, that they could no longer be ignored.
In the 21st century, non-linear editing got the upper hand for good, and the "non-linear" description was abandoned, as it was no longer necessary – practically all editing was now digital and "non-linear" was now the standard. Linear was dead.
Up until early 2000s, there were still editors committed to working with linear video. This way of working suited simple jobs because it involved fewer complications, such as format and hardware conflicts.
In an interesting note, many professional editors expressed the opinion that those who learned linear editing tend to be better editors overall.
Today, for most editors it is no longer important to know how to work with tapes and with linear editing. However, learning something about the subject certainly can't hurt and will at least make you appreciate the advantages of NLE all the more!
VEGAS Pro 15 Edit
Upgrade: VEGAS Pro 15 Edit
C$379.00
Regularly C$898.00
Valid until May 30, 2018
C$220 discount
Included as part of this offer:
Boris Continuum Image Restoration (C$299 value)
From

C$219.00
Regularly C$599.00
Valid until May 29, 2018
VEGAS Pro 15
Upgrade: VEGAS Pro 15
From

C$263.00
Regularly C$799.00
Valid until May 29, 2018
VEGAS Pro 15 Suite
Upgrade: VEGAS Pro 15 Suite
From

C$369.00
Regularly C$999.00
Valid until May 29, 2018